About the Artist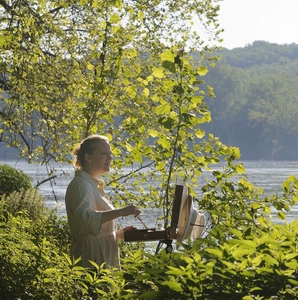 Karen Bateman's paintings reflect her love of the outdoors, especially the quiet places near her home in northern Virginia. She typically paints outdoors, directly from nature in the alla prima style; completing her oil paintings in one sitting, which allows her to capture the immediate feeling of a place.
After enrolling in an outdoor painting course in 2007, Karen is largely self-taught. She was courted by a New York gallery where eight of her paintings were displayed in a group show for a full season. Her first one-woman show was at a Virginia winery in 2008, and she has been juried into a number of local competitions.
A dedicated painter, Karen makes time to paint weekly, typically at dawn. This provides not only lovely morning light, but more importantly it leaves time for her young son Jack, her husband Ty and a full time career at the National Institutes of Health. The banks of the Potomac, the Virginia wine country and the foothills of the Blue Ridge are among her favorite places to paint, as well as anywhere along the sea coast. Painting the landscapes of New England always brings back fond memories of growing up along the Massachusetts shore.